A+B Industry PCs
Our industry PC's are manufactured in Germany with many years of experience in industrial hardware development. The industry PC's are often used in hardened environments. For this reason, the highest demand is our minimum.
Do you work in the following branches?
Industry in general for ex. Steel works, the textile, mechanical engineering, automotive industry (manufacturing areas that are prone to dust)
Hygiene-sensitive working environments like for ex. pharmaceutics, food industry, medical science
Logistics, warehousing (radio, lift truck, agitations)
Then contact us! We may help you regarding data acquisition and data visualisation devices in the areas of manufacturing, logistics, packaging and weighing.
A+B IPC Profi S series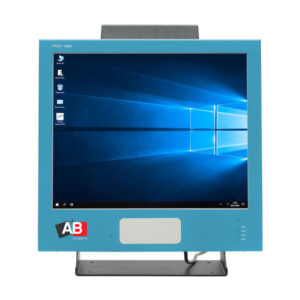 he A+B IPC Profi S is designed for stationary use in industrial environments. Special attention has been paid to the creation of a device that can be used across the board for different customer needs. Of the DNC application on PDA responses to complex visualization. Specifically, the web-based user interfaces of the solutions from A+B are optimized for the touch input options with the PROFI S.
Special features
Protection: IP65 front, IP52 connection side
Uniform IPC platform with the latest CPU technology
Easy mounting options with VESA 100
Modular design
Many interfaces (easily accessible), by removable cover protected
Simple and easy to service
The integration of barcode and contactless RFID readers can easily be done.
Mobile Workstation
Flexible on-site data acquisition
Using data acquisition devices is becoming increasingly complex. Aside classic data acquisition in the area of operating and machine data acquisition within a stationary environment, there is an increasing demand in solutions requiring mobile devices.
The mobile workstation
It primarily serves to optimise workflows. Shorter routes, direct and fast access to superior data systems and the combination of input and output media allow mobility for classic PC functions.
The USV and WLAN connections ensure the mobile workstation's independence. Label printer and bar code scanner make the device complete.
According to the application area specific solutions are offered for the logistics and food industry.