A+B Solutions and iN|ES agree on strategic partnership
End-to-end solution to optimize order planning and control for production processes
Schwäbisch Gmünd, August 17, 2020. A+B Solutions GmbH, a leading provider of web-based MES production control and PLM-integrated production solutions, and iN|ES GmbH from Calw have entered into a strategic partnership. To optimize manufacturing processes, the Opcenter APS order and planning software from Siemens Digital Industries Software and the web-based MES solution FIT for recording orders and statuses will be connected to the ERP solution infra:NET from iN|ES. Customers benefit from greater flexibility and improved transparency and speed in order to be able to react to unexpected changes during the order and production process.
Opcenter APS (Advanced Planning & Scheduling) is an optimization solution for planning and controlling order-related production processes in companies of all sizes. The software can be used to react quickly to unexpected changes and customer requirements while shortening throughput times and meeting delivery deadlines. Opcenter APS ensures best-in-class customer service and increased profitability through efficient use of materials, people and machines and improved delivery reliability.
iN|ES is the developer of the ERP system infra:NET for small and medium-sized manufacturing companies in various industries. The modular, scalable and expandable software makes day-to-day business easier for users and helps them to keep extensive tasks under control at all times. infra:NET is ready for immediate use and can be adapted and configured to meet all the needs of a company thanks to its user-friendly and intuitive interface. With the development of customer-specific modifications and new add-ons, infra:NET is continuously adapted to current market requirements.
With FIT-WebMES, A+B Solutions offers full transparency in production. FIT-WebMES combines the information from the technical level (CAD/CAM/PLM) with that from the commercial world (PPS/ERP) in one solution and under one interface for workstations, machines and workers. The user receives a user interface optimized for his work area, via which he can call up and visualize the relevant order and part information and report activities and information on the individual operations of the production orders.
To optimize the production processes, the Opcenter APS order and planning software from Siemens Digital Industries Software and the web-based FIT MES solution for recording orders and statuses are connected to the infra:NET ERP solution from iN|ES.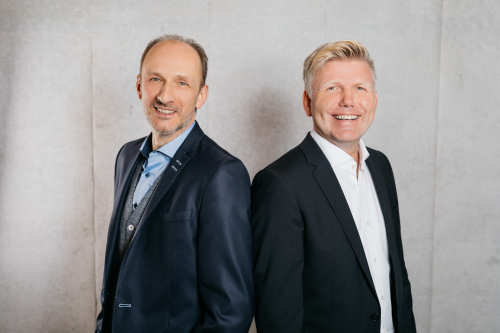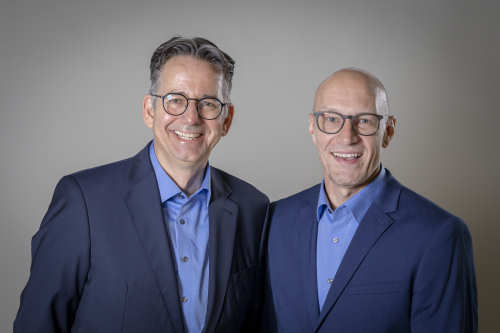 Image left: IN|ES GmbH Managing Directors Bernd Szypulski and Karsten Schmidt. Image right: A+B Solutions GmbH Managing Directors Ralf Stetter and Gerhard Strauss
"We are delighted to have A+B Solutions as an experienced partner with expertise in the analysis and visualization of data generated in production processes. In order to be able to react quickly to problems and changes in the production process, efficient and well-networked IT solutions are required here, with which we can now jointly support our customers," explains Bernd Szypulski, Managing Director Sales & Marketing at iN|ES GmbH.
"With iN|ES, we have gained a partner that fits perfectly with us in terms of size, corporate culture and our target markets, and perfectly complements our expertise and portfolio in the triangle between ERP, PLM and MES with APS. We are looking forward to the cooperation and our common goal of being able to offer our customers an extended range of services," adds Ralf Stetter, Managing Director of A+B Solutions GmbH.

About iN|ES
iN|ES GmbH, based in Calw, was founded in 2016 by Karsten Schmidt and Bernd Szypulski. The two managing directors can look back on over 30 years of development experience with ERP systems. The company currently employs 20 software architects and consultants with extensive expertise in the development, implementation and personal support of business solutions. The focus at iN|ES is on professional support and the satisfaction of customers, who contribute to the ongoing optimization of iN|ES products through their practical feedback. www.ines-gmbh.de
About A+B Solutions
A+B Solutions GmbH develops and distributes software solutions for DNC, BDE, MDE, time data and production control, MES solutions (Manufacturing Execution System) as well as for PLM (Product Lifecycle Management) integrated manufacturing solutions. A+B Solutions has more than 40 years of experience and comprehensive practical expertise in the planning and integration of solutions for production data acquisition and control.As a solution partner of leading providers such as Siemens Digital Industries Software, A+B Solutions offers its customers customized complete solutions – from consulting and on-site assessment of the current situation, through planning and project planning, to system integration, commissioning and service. A+B Solutions' customers include manufacturing companies such as ANDRITZ Ritz, Festo, Hermle, Kutting, Liebherr, Lingl and MTU. www.AplusB-Solutions.com
Press contacts
Ralf Stetter, Managing Director, A+B Solutions GmbH, 73529 Schwäbisch Gmünd, Germany, Phone: +49 7171 92740-0, Ralf.Stetter[@]AplusB-Solutions.com
Bernd Szypulski, Managing Director, Sales & Marketing, iN|ES GmbH, 75365 Calw, Germany, Phone: +49 7051 793200-0, bernd.szypulski[@]ines-gmbh.de